Beartracker's

Tracking Certifications
What certifications are available for tracking? What are the different levels? See below for Beartracker's experiences.
Copyright © 2018. Kim A. Cabrera - Desert Moon Design
Page updated: April 3, 2019
Find tracks and animals on various products at: www.dirt-time.com
All sales go to help support the Beartracker's Animal Tracks Den web site.
Thank you for stopping by! Happy tracking!
Visit Beartracker's Nature Store online store at: www.dirt-time.com Happy tracking!!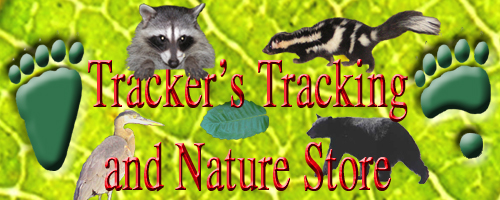 What else can you find in the nature store? Beartracker's T-shirts, sweatshirts, journals, book bags, toddler and infant apparel, mouse pads, posters, postcards, coffee mugs, travel mugs, clocks, Frisbees, bumper stickers, hats, stickers, and many more items. All with tracks or paw prints, or nature scenes. Custom products are available. If you don't see the track you want on the product you want, email me and I can probably create it. Proceeds from all sales go to pay the monthly fees for this web site. You can help support this site as well as get great tracking products! Thank you!