Amphibians
What is an Amphibian?
Salamanders, frogs and toads are amphibians. Some amphibians have long tails and slender bodies. They live near water. Unlike reptiles, they do not have scaly skin. The skin is smooth and moist. Mucous glands help to keep the skin moist. Blood vessels just beneath the surface allow the amphibian to use its skin to help it breathe. Some secrete poisons from their skins. Special color cells allow the amphibian to change its skin color by expanding or contracting. If a limb is lost to a predator, some amphibians can re-grow a new limb. Amphibians are cold-blooded and those living in cold regions hibernate during winter. Eggs are laid in jelly-like masses in the water, or in other moist places. Some amphibian larvae have gills and live underwater until they metamorphose into land-dwelling forms. Many adult amphibians are carnivorous, but larvae are herbivorous (vegetarian).
Click on the name of the amphibian below to see a picture of its tracks and some natural history information about it.
Got an amphibian story? E-mail me and tell me about it.
You are visitor number:

All counters on my site were reset in November 2001.
Copyright © 1997, 2018. Text and drawings by Kim A. Cabrera
Page updated: March 18, 2018.
Copyright © 1997, 2018. Text, drawings, and photos by Kim A. Cabrera - Desert Moon Design
Find amphibian posters, greeting cards, postage stamps and more in my new store.
Visit Beartracker's Nature Store online store at: www.dirt-time.com Happy tracking!!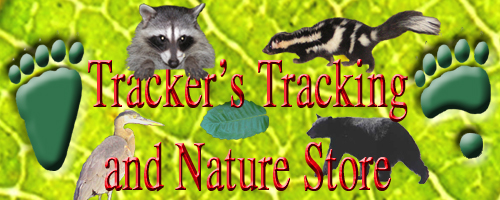 What else can you find in the nature store? Beartracker's T-shirts, sweatshirts, journals, book bags, toddler and infant apparel, mouse pads, posters, postcards, coffee mugs, travel mugs, clocks, Frisbees, bumper stickers, hats, stickers, and many more items. All with tracks or paw prints, or nature scenes. Custom products are available. If you don't see the track you want on the product you want, email me and I can probably create it. Proceeds from all sales go to pay the monthly fees for this web site. You can help support this site as well as get great tracking products! Thank you!
Also visit these fine stores for more products of interest:

NDN Pride shop - For Indian Pride items for all tribes. Custom items available on request.

ASL Signs of Love - For anyone who uses or is learning ASL, American Sign Language. Custom name items and more are available here.

Get Every Child Outdoors (Get E.C.O.) - My shop dedicated to nature and getting kids interested in nature and the outdoors.

Sales from all stores give commissions to Beartracker's Animal Tracks Den, which helps keep this site online as a free service. We are celebrating ten years online this year!