Guidelines for use of Images and Text from this Site
I am not a corporation or a business. I am just an individual tracker who found a lack of information about tracking available online. Accordingly, I decided to provide the information you find in this site as an educational tool for anyone interesting in tracks and tracking. Over the years, this site has grown and I am continually adding more to it. I will keep adding as long as I can.
Due to the free nature of information available on the web, it is difficult to control the use of material provided. I would request that, if you need to use one of my drawings, photos, or portions of the text provided here, you ask first. (The exception to this is students needing to use a track image in a report for school. Go ahead and use it if you are only using it for school.) As many will tell you, I always provide permission to use my material free of charge (as long as appropriate credit is given) to legitimate non-profits, educational institutions, students, park interpreters or interpretive associations, museums and anyone else desiring to use the material for educational purposes and not for personal gain. As the artist who drew the tracks and took the majority of the photos on this site, I certainly appreciate being given credit for my work in whatever publication, web site, pamphlet, or other medium you use them in. In cases where images were donated for use on this site, every effort has been made to give proper credit to those photographers and artists. In most cases, the name of the artist is on the image itself. Before using any of those images, consult the artist. I have tried to provide email addresses where possible. Some of the images were from free sources online. I am gradually phasing those out as I add my own images and replace those from other sources. If you see an image whose copyright you dispute, please let me know. All of the track drawings and photos belong to the author, with the exception of those loaned by Mark Seaver, and several other generous donors. (Thanks, all.)
There have been several instances where my material has been taken without my permission and published in nature guides and other publications that were sold for profit. Those people know who they are and have to live with themselves. I am trying to provide an educational service, not make a profit. I could put this material in a book and sell it, and I have already done so. If you use the material without permission and print it in your books, you are in violation of copyright as, in many cases, I have already published this material. Please ask first. I'm always willing to help and provide images. I also have track images available that are not yet on the site, as well as many that were scanned at a higher resolution than I used on the site. (Download time was a factor in this. I sacrificed resolution for faster download time on the image-intensive pages.)
I am happy to provide artwork and consultation for those needing it and have done so on many occasions. I will continue to do so free of charge unless you wish to make a profit from the images. My time is very limited, so any consultation is done in spare time. Please be patient if you request help. I will get to you as soon as I can.
If you need to contact me, just send me an email.
Thank you for your cooperation and happy tracking!
Sincerely,
Kim A. Cabrera
Author and Webmaster
Beartracker's Animal Tracks Den
Find animal tracks, tracking, SAR and more posters, greeting cards, postage stamps and more in my new store.
Visit Beartracker's Nature Store online store at: www.dirt-time.com Happy tracking!!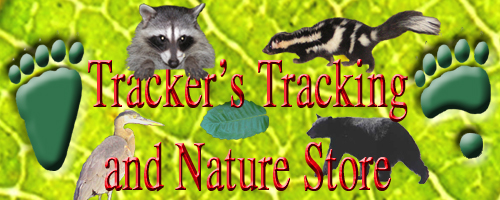 What else can you find in the nature store? Beartracker's T-shirts, sweatshirts, journals, book bags, toddler and infant apparel, mouse pads, posters, postcards, coffee mugs, travel mugs, clocks, Frisbees, bumper stickers, hats, stickers, and many more items. All with tracks or paw prints, or nature scenes. Custom products are available. If you don't see the track you want on the product you want, email me and I can probably create it. Proceeds from all sales go to pay the monthly fees for this web site. You can help support this site as well as get great tracking products! Thank you!
Also visit these fine stores for more products of interest:

NDN Pride shop - For Indian Pride items for all tribes. Custom items available on request.

ASL Signs of Love - For anyone who uses or is learning ASL, American Sign Language. Custom name items and more are available here.

Get Every Child Outdoors (Get E.C.O.) - My shop dedicated to nature and getting kids interested in nature and the outdoors.

Sales from all stores give commissions to Beartracker's Animal Tracks Den, which helps keep this site online as a free service. We are celebrating ten years online this year!
Back to the Animal Tracks Den
You are visitor:
to this page.
Updated: March 25, 2018.
Copyright © 2000, 2018. Text and drawings by Kim A. Cabrera - Desert Moon Design