Pileated Woodpecker
Dryocopus pileatus
tracks coming soon...
Natural History of Pileated Woodpeckers
This woodpecker was hard to photograph. As soon as I got close enough for this photo, he moved. Unfortunately, he moved to a lower branch and I would have had a much better photo....if I hadn't run out of film at that moment. Better luck next time!

Pileated woodpeckers are the largest North American woodpeckers. They are about the size of a crow, about 16 inches long. The wingspan can be 29 inches. They weigh about 10 ounces. They are black and white, with a large red crest on the head.

Pileated woodpeckers live in mature forests. They can be heard tapping on trees for a long distance. The call is loud and distinctive.

Their preferred food is carpenter ants. These large ants live in old rotten logs and standing dead trees, eating the wood and helping to decompose it and return the nutrients to the forest. The pileated woodpecker will excavate large holes in search of these big ants. The holes they make while feeding can vary, but are sometimes rectangular.

Pileated woodpeckers also excavate nest holes. These are round, in contrast to their feeding holes. The large holes abandoned by the woodpeckers are used by other animals as nest holes, or as shelter.


Pileated woodpecker feeding sign on an old log. Note the somewhat rectangular shape of the excavations. If you look closely, you can see the ant tunnels in the wood. If the woodpecker is feeding on beetles, you can sometimes find the beetle frass in the excavations. Beetle frass is sawdust that has gone through the beetle's digestive tract.

Another log where pileated woodpeckers have been active. The irregular holes are created as the bird forages for insects that live in the wood.

Pileated woodpecker looking for food in an old tree. Notice how the tail feathers are braced against the tree to help hold the bird in place.

Pileated woodpecker pecking at a tree to open it. The tail feathers are braced against the tree to hold the bird steady. The tail feathers of these woodpeckers are very sturdy and stronger than the flight feathers.

The pileated woodpecker got startled by something and flew off. I wasn't quick enough with the camera to get the entire bird though. Notice the pointed tail feathers though. These are used to prop the bird against a tree when it is clinging vertically. See how these feathers work in the photos above.

This pileated woodpecker has obviously been working on this log for some time. The many holes were created in its search for tasty grubs, ants, and beetles. The insects help break down the log by boring into it. The woodpecker further breaks down the log by going after the insects. Fungi help in the decomposition process as well. The log thus provides habitat, food, and nutrients for many species. This is why logs are ecologically important parts of the natural system.

Pileated woodpecker at work creating a hole so it can get to insects within the dead wood of this log.
Personal Notes on Pileated Woodpeckers

Pileated woodpeckers live in the woods around my place. I find their calls to be somewhat similar to those of the northern flicker, except longer and louder. I spent a lot of time trying to photograph them, but they are too quick. Their feeding signs are everywhere and it is surprising that such a large bird is not seen more often. They are frequently seen flying overhead, but not often up close. When one is drumming on a tree nearby, you know it. It is very loud. Their call is also very distinctive and you take notice whenever a pileated woodpecker is in the area. Their call attracts a lot of attention.
Pileated woodpeckers are also very wary birds. It is difficult to approach one close without scaring it off. I used a zoom lens to get the photos above. The one on the dead log was the hardest to photograph. I spent over half an hour creeping closer and closer to it from behind some brush. I got the photos by shooting through the branches. When it finally did see me, it took off. But I got a few photos before that happened. Some birds are more wary than others and easier to photograph.
Find pileated woodpecker posters, greeting cards, t-shirts, hats, and more in my new store.
Visit Beartracker's Nature Store at: www.dirt-time.com Happy tracking!!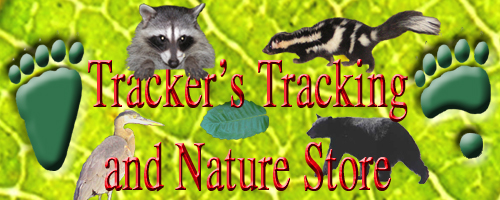 What else can you find in the nature store? Beartracker's T-shirts, sweatshirts, journals, book bags, toddler and infant apparel, mouse pads, posters, postcards, coffee mugs, travel mugs, clocks, Frisbees, bumper stickers, hats, stickers, and many more items. All with tracks or paw prints, or nature scenes. Custom products are available. If you don't see the track you want on the product you want, email me and I can probably create it. Proceeds from all sales go to pay the monthly fees for this web site. You can help support this site as well as get great tracking products! Thank you!
Also visit these fine stores for more products of interest:

NDN Pride shop - For Indian Pride items for all tribes. Custom items available on request.

ASL Signs of Love - For anyone who uses or is learning ASL, American Sign Language. Custom name items and more are available here.

Get Every Child Outdoors (Get E.C.O.) - My shop dedicated to nature and getting kids interested in nature and the outdoors.

Sales from all stores give commissions to Beartracker's Animal Tracks Den, which helps keep this site online as a free service. We are celebrating ten years online this year!
Got a pileated woodpecker story? E-mail me and tell me about it.
You are visitor number:
Copyright © 1997, 2018. Text, photos, and drawings by Kim A. Cabrera
Updated: March 25, 2018.
Copyright © 1997, 2018. Text, drawings, and photos by Kim A. Cabrera - Desert Moon Design