Real Track Impressions
from Sooted Bait Stations
On this page, I will put up scanned images of actual tracks I find in my sooted bait stations. (See the Activities page for directions on how to make one.) The tracks on this page are not drawings or photos. They are the real thing. The animal walks through a sooted aluminum plate and then walks over sticky white paper. The soot sticks to the paper and leaves what is, in effect, the animalís "fingerprints."
I never know who will visit the stations from week to week. So, I hope this page eventually has a variety of different tracks on it. I hope to put up the best examples of each species. Due to smudging and trampling, I donít always have perfect impressions on the paper. Those that I choose to go here are the best examples I have.
Here are the tracks:
These are deer mouse tracks I collected in Hidden Springs Campground at Humboldt Redwoods State Park, California. (May 1998). I have enlarged them to show detail. They are about twice life size.
Below are two hind feet. Probably from two different animals. Notice how the toes are grouped in a 1-3-1 pattern. This tells you it is a rodent. This is a common pattern for mice, squirrels, etc. In the pair of tracks above, the front foot shows four toes. Rodents have four toes on their front feet and five on the hind. (The beaver is an exception. It has a small fifth toe on the front foot that sometimes prints.)
The gray fox doesn't have as much fur on the bottom of its feet as the red fox does, but the fur still shows up in the prints. Claws do not always show in gray fox tracks because they are semi-retractible. The gray fox can climb trees. The bait used on the plate was peanut butter.
The spotted skunk is smaller than its relative, the more familiar striped skunk. The prints show the same 1-3-1 spacing between the toes as rodents and other mustelids (weasels) do. Claws didn't print in this case. This is the best print I got from this particular track plate. The bait used was peanut butter. Bait station was set up near the Eel River outside of Myers Flat, California.
I will add more tracks as I collect them and as time permits. Watch this page for additions!

Find posters, greeting cards, t-shirts, hats, and more in my new store.

Visit Beartracker's Nature Store online store at: www.dirt-time.com Happy tracking!!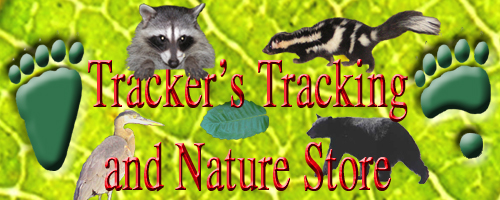 What else can you find in the nature store? Beartracker's T-shirts, sweatshirts, journals, book bags, toddler and infant apparel, mouse pads, posters, postcards, coffee mugs, travel mugs, clocks, Frisbees, bumper stickers, hats, stickers, and many more items. All with tracks or paw prints, or nature scenes. Custom products are available. If you don't see the track you want on the product you want, email me and I can probably create it. Proceeds from all sales go to pay the monthly fees for this web site. You can help support this site as well as get great tracking products! Thank you!
Also visit these fine stores for more products of interest:

NDN Pride shop - For Indian Pride items for all tribes. Custom items available on request.

ASL Signs of Love - For anyone who uses or is learning ASL, American Sign Language. Custom name items and more are available here.

Get Every Child Outdoors (Get E.C.O.) - My shop dedicated to nature and getting kids interested in nature and the outdoors.

Sales from all stores give commissions to Beartracker's Animal Tracks Den, which helps keep this site online as a free service. We are celebrating ten years online this year!
Got a tracking story? E-mail me and tell me about it.
You are visitor number:
Copyright © 1998, 2007, 2018. Text and drawings by Kim A. Cabrera