Red-breasted Sapsucker
Sphyrapicus ruber
The photo above shows the most commonly found
sign of this bird's presence - sapsucker "wells" on a tree.
Natural History of Red-breasted Sapsuckers
Red-breasted sapsucker feeding on a tree
Red-breasted sapsucker drumming on a post.
Sapsucker wells on an old apple tree.
A sapsucker tending his wells
Fresh sapsucker feeding sign
Wells created by sapsucker on a bay tree
Close-up showing freshly opened wells
Freshly opened wells
Red-breasted sapsucker in a tree bearing the scars of his well. Sapsuckers open these wells, which are then used by hummingbirds as an easy food source.
Notice the fresh openings in the tree where this sapsucker is feeding.
Close-up showing the holes the sapsucker has opened.
The sapsucker made a small hole then stuck its beak in to feed.
These claws allow the bird to grip the bark and hang on firmly to a tree.
Personal Notes on Red-breasted Sapsuckers
The bird in the photos recently returned after being away most of the winter. The holes in this oak tree had sealed themselves over and were beginning to heal when the bird returned. He immediately opened up the holes again and let the sap flow. He spends quite a large portion of his day clinging to this tree and eating from the wells he has pecked out.
sapsucker wells
Find woodpecker posters, greeting cards, t-shirts, hats, and more in my new store.
Visit Beartracker's Nature Store at: www.dirt-time.com Happy tracking!!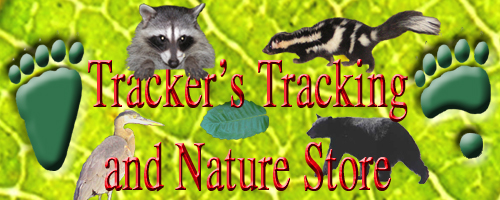 What else can you find in the nature store? Beartracker's T-shirts, sweatshirts, journals, book bags, toddler and infant apparel, mouse pads, posters, postcards, coffee mugs, travel mugs, clocks, Frisbees, bumper stickers, hats, stickers, and many more items. All with tracks or paw prints, or nature scenes. Custom products are available. If you don't see the track you want on the product you want, email me and I can probably create it. Proceeds from all sales go to pay the monthly fees for this web site. You can help support this site as well as get great tracking products! Thank you!
Also visit these fine stores for more products of interest:

NDN Pride shop - For Indian Pride items for all tribes. Custom items available on request.

ASL Signs of Love - For anyone who uses or is learning ASL, American Sign Language. Custom name items and more are available here.

Get Every Child Outdoors (Get E.C.O.) - My shop dedicated to nature and getting kids interested in nature and the outdoors.

Sales from all stores give commissions to Beartracker's Animal Tracks Den, which helps keep this site online as a free service. We are celebrating ten years online this year!
Got a sapsucker story? E-mail me and tell me about it.
You are visitor number:
Copyright © 1997, 2008, 2018. Text, photos, videos, and drawings by Kim A. Cabrera