Tracks and Tracking Quiz
(Test your tracking knowledge or just your patience in waiting for the pictures to load...)
This short quiz is just for fun. Look at the pictures below and see if you can answer the questions. Answers at the end of the page.
Have fun!
| | |
| --- | --- |
| | First question is an easy one - what animal made this track? Bonus Question: What else can you tell from the photo? Hint - how would you age this track? |
| Which two animal tracks can be found in this photo? | |
| | Explain the hole above the quarter. |
| Which two animals left their tracks here? | |
| | What animal made this track? Was the track made before or after it rained? |
| What animal made these tracks and what happened here? | |
| | This one is just for fun. Sometimes when you look at track pictures, the track will appear to be popping out of the soil, rather than being indented. This is called parallax. Do you see the track indented or popped out? Concentrate on it for a minute and see if it reverses. It doesn't always work, but it's fun to play with. |
The Answers

1
The track was made by a raccoon. Look at the pock marks left by raindrops around the track. Do you see any in the track itself? No? Then, the track was made after it rained. This is one clue that will help you age tracks.
2
Gray fox and mouse.
3
The shorebird tracks are those of a killdeer. The bird stuck its beak into the sand in search of food.
4
Raccoon in the upper part of the photo and duck in the lower part.
5
This is the front track of an opossum. The leading ede of the hind track is visible at the bottom of the photo. There are no pock marks in the track, telling you that it was made after the rain.
6
These raccoon tracks were on a rock along the edge of a river. The river had risen with seasonal rains, then subsided, leaving behind a coating of silt on the rock. The pock marks in the silt tell you that it then rained. After that, a raccoon came along and tried to climb up the slippery rock. The animal kept sliding on the slick silt and finally gave up and went somewhere else.
7
Just for fun.
Find posters, greeting cards, t-shirts, hats, and more in my new store.
Visit Beartracker's Nature Store online store at: www.dirt-time.com Happy tracking!!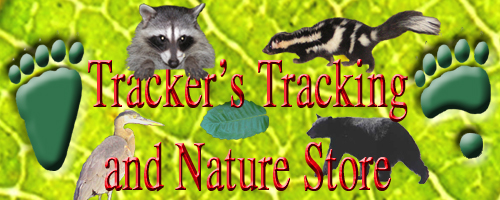 What else can you find in the nature store? Beartracker's T-shirts, sweatshirts, journals, book bags, toddler and infant apparel, mouse pads, posters, postcards, coffee mugs, travel mugs, clocks, Frisbees, bumper stickers, hats, stickers, and many more items. All with tracks or paw prints, or nature scenes. Custom products are available. If you don't see the track you want on the product you want, email me and I can probably create it. Proceeds from all sales go to pay the monthly fees for this web site. You can help support this site as well as get great tracking products! Thank you!
Also visit these fine stores for more products of interest:

NDN Pride shop - For Indian Pride items for all tribes. Custom items available on request.

ASL Signs of Love - For anyone who uses or is learning ASL, American Sign Language. Custom name items and more are available here.

Get Every Child Outdoors (Get E.C.O.) - My shop dedicated to nature and getting kids interested in nature and the outdoors.

Sales from all stores give commissions to Beartracker's Animal Tracks Den, which helps keep this site online as a free service. We are celebrating ten years online this year!
Got a jackrabbit story? E-mail me and tell me about it.

You are visitor number:
All counters reset in October 2000.

Copyright © 1997, 2007, 2018. Text and photos by Kim A. Cabrera
Updated: March 26, 2018
Copyright © 1997, 2007, 2018. Text, drawings, and photos by Kim A. Cabrera - Desert Moon Design