Animal Scat
A common animal sign that is often ignored or passed over because of our human tendency to look upon it as dirty, is scat, or droppings. However, this is another way to identify the species that are present in an area, and even determine what they are eating in that location. Scientists studying scat can determine the health of the individual animal by analyzing the chemical content of this material, as well as looking for seeds, plant parts, berries, and other indicators of the animal's diet. Predator scat often contains large amounts of hair and bones from the prey. Rabbit and other herbivore scat usually contains only plant material. Although this is an important part of animal tracking, I must preface this page with a warning to those who may be squeamish or are bothered by animal fecal droppings. I have included photos of the real thing, so if you are bothered by such things, please do not go any farther. I don't want to offend anyone and would not deliberately try to do so. This is of scientific interest to some and is information that I have found lacking on the 'net. If you are interested in learning another dimension of tracking, read on.
Click on a thumbnail picture to see a full-sized photo and more information.

Cougar (mountain lion) scat.

Deer scat. Typical form.

Deer scat. Clustered form.

Jackrabbit scat. (Pellet)

Horse scat. (Several months old.)

Black bear scat. (Three months old,
composed of apple peels.)

Coyote scat, with hair of prey.

Coyote scat.

River Otter scat.

Mouse scat.

Robin scat.

Human scat.

Wild turkey scat.

Bobcat scat.


Bobcat scrape.


Raven Scat
All photos Copyright © 1999, 2007, 2018. by Kim A. Cabrera
Got a tracking story?
E-mail me and tell me about it.

You are visitor number
All counters on my site reset in October 2000.

Old counter had been active since January 14, 1999.

Copyright © 1999, 2007, 2018. By Kim A. Cabrera
Find posters, greeting cards, postage stamps and more in my new store.
Visit Beartracker's Nature Store online store at: www.dirt-time.com Happy tracking!!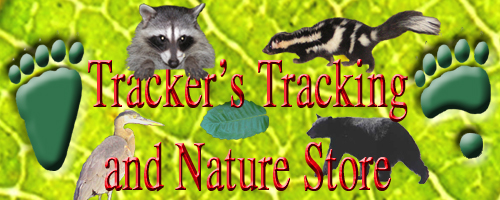 What else can you find in the nature store? Beartracker's T-shirts, sweatshirts, journals, book bags, toddler and infant apparel, mouse pads, posters, postcards, coffee mugs, travel mugs, clocks, Frisbees, bumper stickers, hats, stickers, and many more items. All with tracks or paw prints, or nature scenes. Custom products are available. If you don't see the track you want on the product you want, email me and I can probably create it. Proceeds from all sales go to pay the monthly fees for this web site. You can help support this site as well as get great tracking products! Thank you!
Also visit these fine stores for more products of interest:

NDN Pride shop - For Indian Pride items for all tribes. Custom items available on request.

ASL Signs of Love - For anyone who uses or is learning ASL, American Sign Language. Custom name items and more are available here.

Get Every Child Outdoors (Get E.C.O.) - My shop dedicated to nature and getting kids interested in nature and the outdoors.

Sales from all stores give commissions to Beartracker's Animal Tracks Den, which helps keep this site online as a free service. We are celebrating ten years online this year!
Page updated: March 18, 2018.

Copyright © 1997, 2007, 2018. Text, drawings, and photos by Kim A. Cabrera - Desert Moon Design