Deer Scat

This form of deer scat is a cluster of pellets. This form usually occurs when the animal has been eating moister food. The scat in this picture is from a black-tailed deer. Photo taken at Albee Creek Campground, Humboldt Redwoods State Park, California.

Typical form of deer scat is a pellet, often found in large quantities where the animal stopped to defecate.

The clustered form like the one at left is due to moisture content and type of food eaten. Scats with more moisture are often loose or formless.
A close-up showing deer scat. One end shows a slight dimple. The opposite end shows somewhat of a point.
Find posters, greeting cards, postage stamps and more in my new store.
Visit my online store at: www.dirt-time.com Happy tracking!!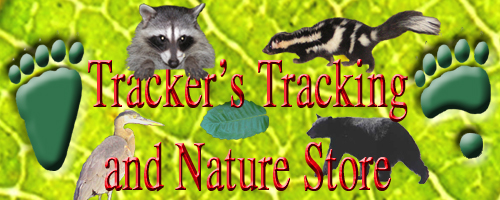 What else can you find in the nature store? Beartracker's T-shirts, sweatshirts, journals, book bags, toddler and infant apparel, mouse pads, posters, postcards, coffee mugs, travel mugs, clocks, Frisbees, bumper stickers, hats, stickers, and many more items. All with tracks or paw prints, or nature scenes. Custom products are available. If you don't see the track you want on the product you want, email me and I can probably create it. Proceeds from all sales go to pay the monthly fees for this web site. You can help support this site as well as get great tracking products! Thank you!
Also visit these fine stores for more products of interest:

NDN Pride shop - For Indian Pride items for all tribes. Custom items available on request.

ASL Signs of Love - For anyone who uses or is learning ASL, American Sign Language. Custom name items and more are available here.

Sales from all stores give commissions to Beartracker's Animal Tracks Den, which helps keep this site online as a free service. We are celebrating ten years online this year!
Photos and Text Copyright © 1999, 2007, 2018 by Kim A. Cabrera
Got a tracking story?
E-mail me and tell me about it.

You are visitor number since January 14, 1999.

Copyright © 1999, 2007, 2018. By Kim A. Cabrera