| | | |
| --- | --- | --- |
| | Mountain Lion / Cougar Trail Video | |
| | Puma concolor | |
This is part one of two videos that show the trail of a mountain lion (cougar). It was in the dense brush near the river and made its stealthy way though, then pounced. The pounce left all four tracks in some nice mud. This video clip shows the cougar's trail leading up to those perfect tracks. The next one will show those tracks up close. Mountain lions are well-known for their stealth and hunting ability. Trailing one into its brushy domain gives insight you just can't get by reading a book about these magnificent animals. Trackers will tell you the joy of tracking is solving the puzzle left behind by an elusive animal, such as a cougar.
Find mountain lion / cougar posters, greeting cards, t-shirts, hats, and more in my new store.
Visit Beartracker's Nature Store at: www.dirt-time.com Happy tracking!!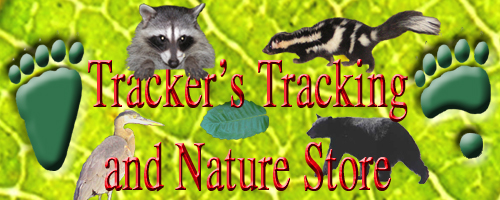 What else can you find in the nature store? Beartracker's animal tracks coloring book, T-shirts, sweatshirts, journals, book bags, toddler and infant apparel, mouse pads, posters, postcards, coffee mugs, travel mugs, clocks, Frisbees, bumper stickers, hats, stickers, and many more items. All with tracks or paw prints, or nature scenes. Custom products are available. If you don't see the track you want on the product you want, email me and I can probably create it. Proceeds from all sales go to pay the monthly fees for this web site. You can help support this site as well as get great tracking products! Thank you!
Also visit these fine stores for more products of interest:

NDN Pride shop - For Indian Pride items for all tribes. Custom items available on request.

ASL Signs of Love - For anyone who uses or is learning ASL, American Sign Language. Custom name items and more are available here.

Get Every Child Outdoors (Get E.C.O.) - My shop dedicated to nature and getting kids interested in nature and the outdoors.

Sales from all stores give commissions to Beartracker's Animal Tracks Den, which helps keep this site online as a free service. We are celebrating ten years online this year!
Got a cougar story? E-mail me and tell me about it.

You are visitor number:
All counters reset in November 2001.

Copyright © 2009. Video clips, text, drawings, and photos by Kim A. Cabrera

Page updated: Wednesday, January 27, 2016.
© Kim A. Cabrera - Desert Moon Design